California Manufactured Housing Provides Diverse Ownership Opportunities
Since we reworked our sites, we are circling back and covering some of the fundamentals of California manufactured home sales and finance. One of the questions we are frequently asked is about the differences in manufactured home ownership classification in California.
What type of ownership is best? It can be confusing. Land Lease, Land Owned, PUD, Fee Simple, Co-op, Condo. Condo?
Yes, Condominium mobile home parks in California!  All of these types of manufactured home ownership exists in California and all behave differently in the market, primarily due to the acceptability in financial markets and the nature of the security. Some lenders like one type, others don't. Good financing drives value which is the most important feature to any buyer. 
Land Lease Communities
While we prefer the term "Manufactured Home Community", customers and industry professionals still use the phrase mobile home park. These homes are certainly not mobile. Many mobile homes in California were built in the 1970s and are still on their original location. Typically park land is zoned for manufactured housing, but owned privately. Homes are titled, not deeded. Market values for homes in land lease parks are closely tied to the amount of lot rent. Some cities in California have rent control ordinances for mobile home parks. Many parks across  Long term value of the home is determined not only by the amount, but also by the stability and predictability of the the total monthly housing cost.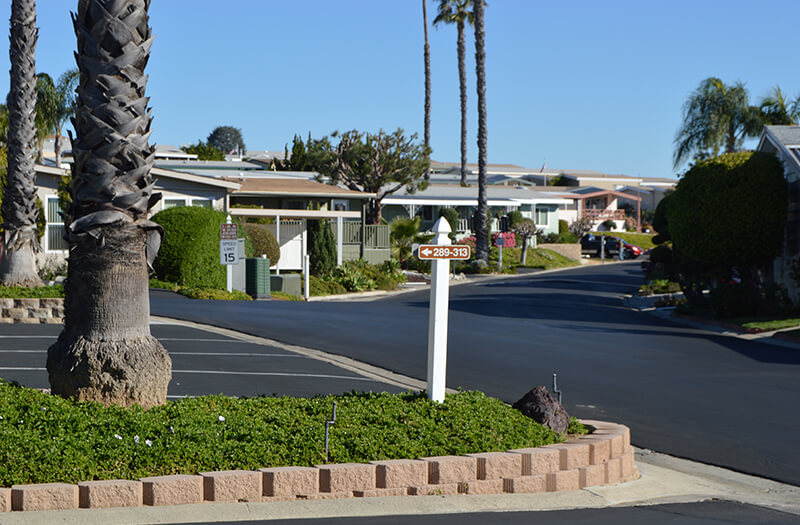 Resident Owned Communities.
The best news about long term land lease ownership is the trend in many communities towards long term rent stabilization for mobile home parks.It's important to know the terms of your lease. Purchases in land leased communities are supported by competitive and accessible financing from national portfolio lenders. Manufactured homes in land lease communities represent the lowest cost manufactured home ownership option in California.
Is it "Mobile Home" or "Manufactured Home"? Technically, homes built prior to June 1976 are classified as mobile. Homes built after that have been built to a federal standard called The HUD Code and known as manufactured. The terms are used interchangeably in California.
California resident owned communities are unique in value and financeabilty.

There are different types of resident owned communities in California. Generally ownership falls within one of these categories.

Condo Parks- In California Manufactured Home Condominium Communities, the home owner a receives grant deed in common. Each home owner owns an equal share of the land and the common areas. One major difference from traditional condo ownership is the exterior of the manufactured home and the lot is the home owner's responsibility. Community management is the responsibility of the Home Owners Association. Home prices are significantly higher than land lease communities and are driven by lower HOA fees, longer term financing and tax advantages. Several California manufactured home condo communities are approved for FHA, VA and Conventional financing leading to a more competitive financing market. Lower rates=Better Values. To qualify for traditional financing, homes must be on a certified permanent foundation. 

Planned Unit Developments - A Manufactured home PUD is a group of manufactured homes in a development that was originally designed, approved, zoned and built just for manufactured homes on a permanent foundation. Each individual lot is surveyed and individually metered. Each land owner owns their own parcel but owns and equal share of any common areas. HOA fees in PUDs are typically the lowest of  all resident owned manufactured home parks. Financing for HUD Code homes (built after June 15, 1976) is very competitive in both government and conventional mortgage markets. 

Cooperative Communities - California manufactured home Co-op communities are a hybrid type of resident ownership. Home ownership is typically titled like a home in a land lease community and land ownership is in the form of a share of stock in a non-profit corporation. Financing for manufactured homes in cooperative communities is very limited and often carries rates higher rates than land lease communities if available at all. That pushes cooperative communities towards cash heavy owner carried sales.

Fee Simple Ownership - Manufactured and modular construction on privately owned land has been an affordable option in California for years. The resale market for manufactured homes is active, often including plans for older home replacement taking advantage of lot development in place. Financing for both resale and new home construction is readily available, including construction lending. 

For more information about manufactured home ownership in California, call a MH Realty Associates; home and loan programs by California's factory built sales and finance specialists.

Portions of this article are reprinted from MHRealtor.com