Positive changes for California manufactured home buyers coming in 2019
From attitude to design to recognition by financial markets, the manufactured home industry across the nation is changing.
Making manufactured homes part of the affordable housing solution makes more sense than ever before. How will changes impact California home owners, buyers and the agents that help them? Changes in market conceptions are often slow to change but gaining the favor of financial markets will be a difference maker for the industry.  Manufacturers' next level architectural designs already have many home buyers taking a second look and new finance programs make buying a manufactured home more affordable than ever.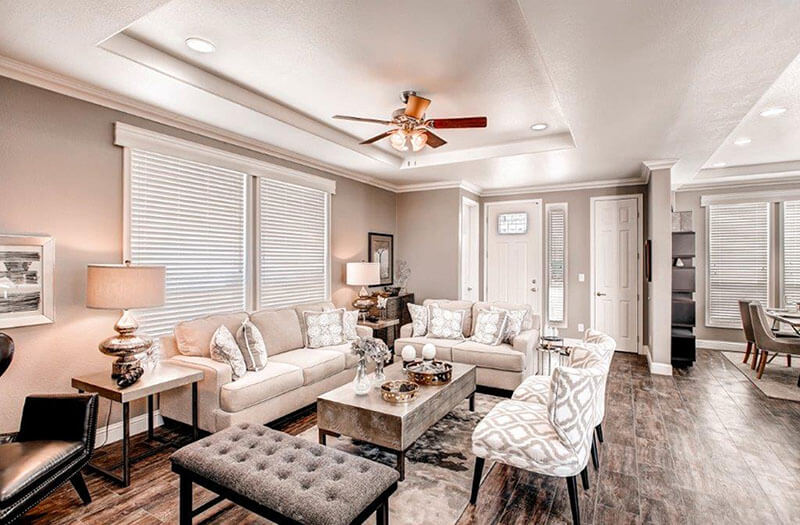 Regulation
Affordable housing is not just a California issue. It's a nationwide issue and over the last year there have been legislative changes that will have long term positive impact. 
2018 was the first full year California Senate Bill 329 was in effect.  Under prior California law, many programs that provide assistance for a great many housing needs were not offered to California manufactured home owners and buyers. These include emergency housing, multi-family housing, farm worker housing, veteran housing, and home ownership for very low- and low-income households. Among others, programs also include down payment assistance for first-time home buyers. However, State authorities previously excluded manufactured home buyers from these financing and financial assistance programs. 
Additionally, and perhaps more significant is the prohibition of discrimination against factory built housing by building jurisdictions regarding project eligibility.
In May 2018, the Federal Economic Growth, Regulatory Relief, and Consumer Protection Act went into effect providing some compliance relief to retailers. Retailers can't perform loan origination activities without a license, but they can distribute loan applications and provide generalized assistance getting the process started. 
Implementation of Duty to Serve Programs
Duty to Serve (DTS) rules from the Federal Housing Finance Authority (FHFA) requires Fannie Mae and Freddie Mac to develop programs for under served markets including manufactured homes. Announced in 2017, program roll outs have started. 
Land Owned
Both Fannie Mae and Freddie Mac introduced land home programs with Fannie's MH Advantage and Freddie's CHOICEHome loan programs. New underwriting options allow for conventional underwriting and qualifying homes are eligible for 3% down payment programs as an alternative to higher cost FHA financing. Qualifying homes will contain more of the features built in to site built homes.  Freddie Mac says "Today's manufactured homes can deliver outstanding quality at prices that are up to 50 percent less per square foot than conventional site-built homes. These savings can enable more Americans to own their own home, even in the face of an ever-widening housing affordability gap."
We are approved for both programs, but the retailers were not ready. This is a perfect example of how good financing can drive a market. Manufacturer's will upscale and modify designs increasing quality and appeal. With better financing, better quality becomes more affordable. 
Chattel
Fannie Mae chattel pilot loan program is set to roll out with a $60 million 2019 loan purchase target with a total liquidity target of $120 million. 
Fannie says "Manufactured housing titled as chattel represents the largest housing market in which Fannie Mae currently does not provide liquidity. In addition to requesting FHFA approval to develop a chattel pilot, Fannie Mae need internal approval to purchase chattel loans. The number of loans approved for purchase must meet safety and soundness standards while also meeting the requirement to be a sufficient number so as to be appropriate for analysis and to gain an understanding of their performance. Fannie Mae's strategy is to leverage the pilot to develop a sustainable chattel solution."
We still have nightmares over the disaster that has been Title I but have an optimistic view of the pilot. The big question is collateral performance on a national scale. No other market in the US maintains values like California. If the pilot proves to be successful, this could result in long term disruption for current chattel investors. 
Demand and Production
California new home production will be at at 5 year high and factories are mostly operating at maximum capacity. Buyers will need to allow for four to five months production time. New programs that make it easier to buy can put increased pressure on production. As demand for new home sales increases, older homes that need to be replaced will bring higher values. 
Design and Usage
Manufacturer designs continue to evolve. High end finishes have become the norm and are marketed as complete packages. Expect more modular construction and new building systems will begin to show up. As more building jurisdictions address affordable housing and renewal, the cost and construction time frames will be important. 
Agent Programs
Thinking about making a move or want to add manufactured home sales to your portfolio, give us a call.